June's BareAll provided us with a feast for thought and a place to meet some inspirational game changers, one of which was Dominic Winter, Sustainability & Campaigns Manager at Neal's Yard Remedies.
To recap: Neal's Yard Remedies (famed for pioneering natural skin and body care) is unsurprisingly hot on organic provenance, sustainability and engendering eco positive change. Dom steers the campaigns, seeking to make an ally of consumer behaviour in the quest for planet-friendly revolution.
One such campaign is the Bee Lovely movement. According to the British Beekeepers Association, the humble bee is responsible for pollinating one third of what we eat. That's one third of our food that wouldn't exist without bees. Whoa. Not so humble.
What's the buzz?
Make no mistake; bees are an irreplaceable cog in the vast machine that is our planet's ecosystem:
84% of crops grown for our consumption rely on insect pollination. That includes most fruit and veg, many nuts, lots of plants harvested for oil…you get the idea.
Our livestock is fed on crops pollinated by – you guessed it – bees. The berries and seeds nibbled on by birds and rodents come from plants pollinated by bees.
Even cotton is pollinated by bees. Bees feed and clothe the world, forging food chains and contributing to biodiversity the world over.
The plight of the bumblebee
Despite the bee basically keeping us fed and clothed, the UK's bee population has reduced by a third in the last decade. Two bumblebee species are now extinct. The British Bee Keeper's Association say the bee is in real danger of disappearing.
While the cause for this isn't clear cut, contributing factors include the attack of the varroa mite and fallout from intensive farming practices, such as depletion of wildflower habitats and widespread insecticide usage.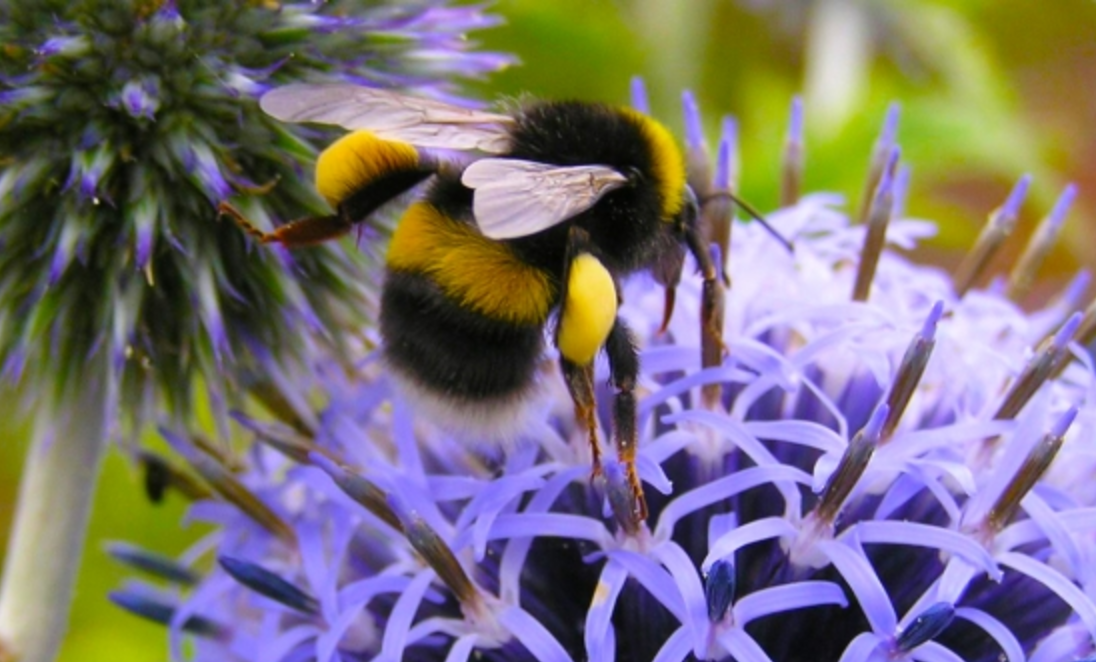 Bee Lovely
Enter Neal's Yard Remedies, raising the bee profile. Spreading the word like Bee Lovely Balm on dry skin through promotion of the product range and a solid social media campaign. Organic ingredients are high on the brag list. Organic provenance = pesticide-free havens for bees to feast in and organic agricultural land = increased biodiversity. Everyone's a winner.
But Neal's Yard Remedies go further still, putting money where their mandibles are (it's a bee joke) with 3% of Bee Lovely profits flying directly to bee-supporting charities. The headline partner is Bees For Development, which invests in beekeeping training, hives and support for farmers in Ghana and Ethiopia.
There follows a honey-barrel of benefits: increased bee numbers → increased pollination → increased crop yields. This project has seen cashew crops double. There's also additional income for the farmers from the honey. So much win.
Funds for the cause are distributed internationally and the monetary contribution is supplemented with a voice: The Neal's Yard Remedies name has backed important bee-friendly petitions, such as one calling for a ban on neonicotinoid pesticides and another asking councils to manage bee-vital road verges better.
Since the campaign launched in 2011, Neal's Yard Remedies have donated over £60,000 to bee-friendly causes. They aim to support 50 million more bees by 2020. Bees are invertebrates – they don't have backs – but if they did, Neal's Yard Remedies have got 'em.
What can you do?
Lots of stuff!
Plant bee-friendly flowers in your garden
Protect the bee refuges found on roadside verges by signing the Plantlife (supported by Neal's Yard Remedies) petition here
Avoid pesticides and register your disapproval of them to the man by going organic wherever you can
Buy organic honey and bee products, local if possible
Become a beekeeper!
Or just Bee Lovely and get yourself some honey-smooth skin courtesy of bee champions, Neal's Yard Remedies